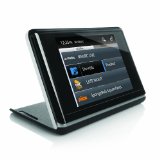 Are you always on the go? Do you live an active mobile lifestyle? If so Flo TV was created with you in mind! Flo TV allows you to watch your favorite full length live Television shows, live sports, breaking news, Kids programming and live events and concerts , as well as Simulcast, and time shifted programming that gives you the power to choose when primetime starts. Now you can stay informed and entertained no matter the time of day, or where you are. There is not a whole lot to know in order to get Flo TV service but there seems to be alot of questions out there about how Flo TV works. We answer any and all questions you may have about Flo TV and we also list and review all of the best Flo TV's on the market so far. We will keep you informed on all the latest news and information as it comes out. Good luck and we hope that we help you find everything you need to know about Flo TV's.
Check Out Flo Tv On Amazon
NEW!!! Add Flo TV To Any Installed Entertainment System In Your Car Or SUV
There is now a way to add Flo TV into any entertainment system that is already installed in your car. There is a backseat tuner (seen to the left) that can be installed to work on any system in your car for half the price of what it would cost to get a whole new setup. All you have to do is order the kit from Amazon and then take a few minutes to set it up. Anyone with a little bit of common sense should be able to install it and have it working right within 30 minutes or less.
This is a new product that is selling fast and may not be available at all times for immediate shipping. You used to have to go to your dealership to have Flo TV installed in your car, but this kit stops you from having to do that. The cost of getting Flo TV from the dealership is extremely high and we do not suggest that people go that way. This way is just as good and you can spend a hell of alot less money.
Buy The FLO TV™ Backseat TV Tuner And Add live television programming to your rear-seat entertainment system
How Does Flo Tv Work?
How Flo Television works, is as simple as turning on your television at home. One touch of a button is all that separates you from instant live TV. NO DOWNLOADING or BUFFERING ever. The program guide is very much like your guide at home, you can scroll up and down, and view programming up to 48 hours in advance. Parental controls allow you to block programming by both rating and channel, so your kids are always protected.

The Flo TV Personal Television is a sleek one-of-a-kind digital hand held television. That features a 3.5 inch touch screen display, Built in speakers, the total harmonic distortion is less than 10% (headphones are included but not needed). Adjustable stand for hands free viewing. The Lithium ion battery provides up to 5 hours of viewing time and 300 hours of standby. With dimensions of 4.4 x 3 x 0.5 inches and weighing in at 5.5 oz it fits easily into just about any pocket or purse. The Flo TV comes with a one year warranty on parts and labor so you're covered.
The Flo TV Personal TV has an msrp of 249.99 and ships with the Flo TV Personal Television, ear bud headphones, cleaning cloth, AC adapter, 2.0 usb cable, Lithium ion battery and owner's manual. The first six months of service is included with purchase, with a monthly fee of 14.99 thereafter for Flo TV service. For more info on Flo TV and answers to your questions, consult our Flo TV Personal Television FAQs
Where To Buy Flo TV?
Right now there is only a few places to buy Flo TV. You can Check out FloTV on Amazon
here or you can also check it out at Best Buy. Below we tell you just how to get Flo TV service in a easy step by step process. Just follow it and you will have Flo TV service in no time.
Easy Steps To Buy A Flo Tv Personal Television
1 - Buy a Flo Tv from Amazon
and it can be there in 2-3 days.
2 - Create An Account With Flo Tv - There is an activation that must be handled before you can start watching mobile TV. After you get you Flo TV, then you will need call 1-888-993-5688 and set up your account. This only takes about 10 minutes or so and they can also help any other questions you may have about Flo TV.
3 - Activate Your Service - Once you have set up an account with Flo TV directly, you need to go to their website and activate your account. Have your TV on and ready to receive a signal from them. Thats all there is to it.
Check out FloTV on Amazon
Flo TV mobile phone service is available from both AT&T wireless and Verizon wireless. Watching Flo TV on your cell does NOT use your phone minutes or interrupt phone service. Flo Mobile Television is broadcast on a dedicated network built from the ground up. You have two exclusive phone options from both providers to choose from.
FAQ about Flo TV Personal Television
Best Flo TV's
Below is a list of all the best Flo TVs available along with Flo Tv reviews of each one of them. There is only one personal television that is made for the Flo TV right now, so the decision should not be that hard. We will keep you informed of any new Flo TVs that come out on the market.
FLO TV Personal Television PTV 350
This is the original Flo TV available and it is the one that most people have. This is a sleek device that is very light and easy to carry and only weighs 5.4 ounces. The tv features a 3.5" QVGA screen that is actually a touchscreen.

The FLO TV Personal Television PTV 350 has a stand built in so that you can use it hands free as well as built in speakers on this Flo tv. Buyers can watch up to 5 hours of TV off of a single charge, depending on the age of the battery. The PTV 350 comes with the Flo TV, the Flo TV power adapter, headphones, battery, USB 2.0 cable, screen cleaning cloth, and a Flo TV quick start guide. Service is required for this TV to work so please do not buy it unless you have Flo TV service. 350PTV 3.5-Inch Portable Digital LCD TV
Read our FLO TV Personal Television PTV 350 Review.
Check out FloTV on Amazon
Flo TV Activation
Activate Flo TV Personal Televisions
There is just a few things you need to do in order to activate a Flo TV personal television. First off Check out FloTV on Amazon
and get it shipped to you. Next off you will need to set up an account by calling 1-888-993-5688. They will need a few things off of the Flo TV so be sure to have it in front of you. They will get all the information they need and as long as you are in range of the service, you sill start to receive a Flo TV signal.
Activate Flo TV On Your Cell Phone
All you need to do in order to activate Flo TV service on a AT&T phone is get AT&T Mobile Service
and then tell them that you want to add on Flo TV to your account. You will be getting a signal within ten minutes or so. Same goes for service with other mobile providers.
Activate Flo TV In Your Car
They will set up everything at the dealership when you go to buy your Flo TV service in your car. There is no way to activate Flo TV service in a vehicle that you have now without visiting a dealer.
Check out FloTV on Amazon
More Information About Flo TV
Where is Flo TV Available
Flo TV is available in over 85 markets nationwide, and Flo TV service is offered three ways, on the Flo TV Personal Television, on your phone though both Verizon wireless and AT&T wireless and in your car. Flo TV Channels include; 2.FLO, ABC Mobile, Adult Swim Mobile, CBS MOBILE, CNBC, CNN Mobile, Comedy Central, Crackle, Disney Channel, Food Network, Fox Mobile, Fox News Channel, MSNBC, MTV Tr3s, NBC 2Go and Nickelodeon.
Flo TV in your car
The Flo TV automotive service is compatible with ANY new or existing mobile video system. One year of Flo TV Automotive service is included with the hardware purchase, but is only available through select dealers nationwide. With Annual plans starting at $119 and a 3 year plan for only $299 (less then $9 a month) you can afford the freedom Flo TV offers for a fraction of its worth. And activation is as easy and calling a 1-888 number and they walk you through the step by step process that takes about ten minutes.
Check out FloTV on Amazon
Cell Phones That Are Flo TV Compatible
There is some good news for alot of people in the USA. You can now get Flo TV on the Iphone. The Iphone is the most popular cell phone in the United States right now and it is no surprise that the Iphone would be able to handle Flo TV. The cost of an iphone is anywhere from about $300 for the one with the smaller memory and a little more for the other one. If you already have an iphone to use then the same fees apply for Flo TV mobile service. The Flo TV service on the Iphone is as fast as it is when you are on the couch watching and it is a great way to watch TV on the go. We highly recomend the Iphone for Flo TV service.

The Motorola Krave is a dual touch screen flip phone that allows you take your Flo TV enjoyment with you anywhere. It features two touch screen interfaces that allow you to access some features while the phone is closed. Experience high-speed full HTML web surfing. 2.0 Megapixel Camera that takes printable photos and Camcorder for capturing long Videos, plus Bluetooth and much more. The Krave can be yours free though this special offer a savings of $429.99.

The AT&T 3G Samsung Mythic features just about every bell and whistle you could imagine or want. On top of its Flow TV capability the Mythic boasts a short list of functions and features that includes; 3.3 inch full Touch screen display; Full 26 key keyboard; full HTML web browser; Bluetooth; 3.2 megapixel auto-focus image stabilization camera, with 3x zoom, and live video capture and playback; Music player that supports MP3, AAC, eAAC+, AMR, and MIDI formats; Streaming Radio; Voice dialing and voice commands; plus so much more. Check Out These Cell Phones On Amazon

The Mythic is yours for the none commitment price of $349.99, but with a 2-year contract and a $50 mail in rebate it's yours for only $149.99! Yes the phone that will set you free is yours for only $149.99

The HTC Imagio™ is a business man dream. It runs on Windows Mobile® 6.5 Professional OS, and features Windows office. A 3.6" touch screen with zoom control, and a virtual QWERTY keyboard allows you to check your email, create a document in Word, a spreadsheet in Excell or just about any other work related task. And when you're done working you can catch the end of the game on ESPN Mobile. Check Out These Cell Phones On Amazon

The AT&T 3G LG VU is packed with most of the same features as the Mythic scaled back just a bit, however Regularly $299.99, the LG Vu is yours free (that's right free)with a new AT&T account and a 2-year contract.
Check out FloTV on Amazon
Video Of And Testing The Flo TV PTV 350