Flo TV Personal TV PTV350 Review
Welcome to Flo TVs. The absolute easiest way to get connected with Flo TV is with the Flo TV Personal Television PTV 350. This beauty brings the capability to receive all

the programming that Flo TV pipes out to it's subscribers. It fits in your pocket and can keep you entertained for hours, learn more about the Flo personal television in our Flo TV Personal Television PTV 350 Review.
The first thing you need to know is that the Flo TV Personal Television PTV 350 isn't going to break the bank. In fact, the MSRP on this bad boy is just $249.99 Available for purchase at major electronics retailers, as well as here on our site, the PTV 350 is only a few clicks away from being delivered to your door.
So, what do you get when you get a Flo TV Personal Televsion PTV 350?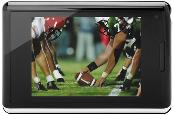 Well, you get a good bit for your money. In addition to the PTV 350, buyers will receive the 3.5mm headphones, a brand new lithium ion battery, a screen cleaning cloth (you don't want to scratch that baby), an AC adaptor that plugs into the way, documentation, as well as a Micro USB cable. The PTV 350 stands on it's own, so no need to worry about a viewing stand. But, most of all, you can get up to 19 Flo TV Channels of unbuffered video entertainment.
Flo TV PTV 350 comes with a standard 3.5" touchscreen. The screen illuminates nicely making for easy television watching, even in the dark. The touchscreen making channel surfing a breeze as you can easy flip between channels with just the flick of your finger. The Flo TV PTV 350 leaves nothing to spare with it's QVGA high resolution output. Check out FloTV on Amazon
Other features we had to include in this Review of Flo TV Personal Television PTV 350 were the integrated stereo speakers. The may be small, but they definitely pack a punch. The speakers on the Flo PTV350 can easily be heard provided that there isn't an excess of background noise. While Flo TV boasts that you will not need them, they do include an accessory set of ear buds in case you are in a noise sensitive environment.
Remember we said you'd be enjoying television entertainment for hours on end? Well, that's true. The battery life of the Flo TV Personal Television PTV 350 is rated for a full 5 hours of television watching when fully charged. That's enough time to catch that re-run of 'Titanic' or to watch the entire game on ESPN, the possibilities are endless. When you aren't watching the Flo PTV350, it's battery will stand by for up to 300 hours of idle time, that's almost 2 weeks!
When it comes to the Flo TV PTV 350 programming, parents will be please to know that they have the control over what their children watch. While there really isn't much on Flo TV that is too risque, there is the occasional exception. No matter how much or how little leeway you give your kids on their programming choices, you ultimately have the control with Flo TV Parental Controls.
That just about covers everything in the Flo TV Personal Television PTV 350 Review. Once you got one of these little marvels, it is going to be up to you to set up the service. Typically, the Flo TV PTV 350 comes with a free subscription to Flo TV Service. Pick one up today.
Check out FloTV on Amazon